You are visiting globalshift.co.uk - copyright © 2009 to 2017 All rights reserved Home | Terms of use | Datafiles | Contact us
Globalshift Limited - admin@globalshift.co.uk Globalshift.co.uk is as up-to-date as possible but some information may not be the most recent available
Land area (sq kms)
Oil prod (000s b/d)
Gas prod (bcm/yr)
Oil cons (000s b/d)
Gas cons (bcm/yr)
More numbers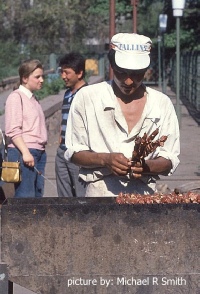 Georgia lies between the Greater and Lesser Caucasus mountains and is bounded by the Black Sea (west), Russia (north), Turkey and Armenia (south) and Azerbaijan (southeast. It contains 2 semi-independent regions (Abkhazia and South Ossetia).
The country had been inhabited for thousands of years before civilisations developed from 700 BC. Colchis (west) and Iberia (east) unified in 400 BC. The Romans briefly conquered the region in 66 BC, competing with the Sassanids and then Arabs for power. A Georgian kingdom emerged in 1008 AD which peaked in the late 13th century. Thereafter Georgia became fractured by empires including the Mongol, Ottoman, and Iranian. In 1783, the eastern kingdom of Kartli-Kakheti allied with the Russian Empire leading to complete annexation by Russia after 1801.
Georgia declared independence in 1917 and was absorbed into the Soviet Union as the Georgian SSR in 1922. Independent again in 1991 after Soviet break-up, it suffered unrest for most of the 1990s. In 2003 economic reforms and adoption of a pro-West policy led Russia to invade in 2008 in support of separatist movements in South Ossetia and Abkhazia. Russia recognises these as independent countries but Georgia maintains they are occupied.
Georgia is a mountainous and plateau country, largely of volcanic origin. The Likhi Range divides it into eastern (Colchis) and western (Iberia) halves. Mountains also isolate the northern region of Svaneti.
The Greater Caucasus Mountains, of which the highest is Mount Shkhara at 5,068m, form the northern border whilst the south is bounded by the Lesser Caucasus Mountains subject to earthquakes.
Georgia has produced small amounts of oil and gas onshore from marginal fields in the Rioni basin in the west, especially from the Samgori area between 1974 and 1985, and from the Kura Basin in the east since the 19th Century.
Globalshift believes that there is little chance that significant new discoveries will be made. Nevertheless remedial work on old fields could increase output in the short term. The offshore area of the Black Sea would appear to have no potential although very little drilling has been carried out here, and none in deep waters.
Foreign joint ventures, onshore and offshore, operating in the country have had negligible effect in terms of growing production rates. The BTC (Baku to Ceyhan) oil and gas pipelines from Azerbaijan to Turkey pass across the country.
GEORGIA - Map and National Flag
Buy Excel files - histories and forecasts of production and wells split into any category for all countries and regions
Review files
Capital: Tbilisi
Population: 4.3 million
Georgia is a representative democratic semi-presidential republic, with the President as the head of state.
The Cabinet is composed of ministers, headed by the Prime Minister, and appointed by the President. Parliament is unicameral with 150 elected members.
The LEPL State Agency of Oil and Gas of the Ministry of Energy of Georgia is a governmental agency within the Cabinet of Georgia in charge of regulating activities in the energy sector.
CENTRAL ASIA
Street vendor