You are visiting globalshift.co.uk - copyright © 2009 to 2017 All rights reserved Home | Terms of use | Datafiles | Contact us
Globalshift Limited - admin@globalshift.co.uk Globalshift.co.uk is as up-to-date as possible but some information may not be the most recent available
Land area (sq kms)
Oil prod (000s b/d)
Gas prod (bcm/yr)
Oil cons (000s b/d)
Gas cons (bcm/yr)
More numbers
Monaco (the Principality of Monaco) is a micro-state on the French Riviera circled by France, with the Mediterranean on its south coast.
Monaco was run by the Hohenstaufen dynasty of the Holy Roman Empire in the Middle Ages. Given to the Genoese in 1191, it became a colony of Genoa in 1215. The House of Grimaldi, a disaffected Genoese family, captured it in 1297 but battles for the area continued until 1419 when the Grimaldis purchased it from the Crown of Aragon, styling themselves Princes. In the 1630s they sought French protection from Spain although retained sovereignty.
In 1793, Napoleonic forces captured Monaco and it remained under French control until 1814 when the Grimaldis returned. At first it was a protectorate of Sardinia but in 1860 it became French once again. The state's sovereignty was recognized by the Franco-Monegasque Treaty of 1861, aligned to French international interests.
It became a gambling centre and tax haven for wealthy residents. Monaco was administered by Italy, then Germany during World War 2. The economy now depends on high value services and tourism. It is not in the EU but it participates in many of its policies, using the Euro.
Monaco is located on the French Riviera within the Maritime Alps with one side bordering the Mediterranean Sea.
This geology is unsuitable for commercial accumulations of oil and gas and the country thus has no identified indigenous oil or gas resources, either onshore or offshore, and Globalshift believes it is unlikely to achieve any production in the future. No exploration wells have ever been drilled within its borders.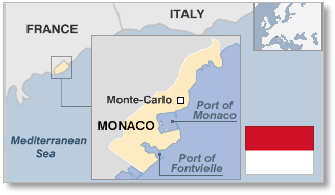 MONACO - Map and National Flag
Buy Excel files - histories and forecasts of production and wells split into any category for all countries and regions
Review files
Capital: Monte Carlo
Population: 0.03 million
Monaco is a constitutional monarchy with the Sovereign Prince of Monaco as head of state. The executive branch consists of a Minister of State (usually French) as head of government, who presides over a 5-member Council of Government. A 24-member unicameral National Council shares veto power with the Prince.
There is no government department specifically responsible for oil and gas resources.
MONACO, MONTE CARLO
The casino